ACT TEST PREP | ACT PREP RESOURCES



Did You Know?
The ACT test assesses high school students' general educational development and their ability to complete college-level work. ACT scores are one of the most important factors in the college admission decision, second only to grades in college prep courses.
This is a high stakes test. How will you prepare for this important test?
The ACT has 4 components: English Language, Mathematics, Critical Reading and Science. The SAT exam has 3 components: Math, Critical Reading and Writing. the ACT tests grammar, punctuation and syntax versus the SAT is focused on vocabulary . The Writing Test, an optional component, measures skill in planning and writing a short essay.The SAT does not test you on science and trigonometry. The ACT lasts 2 hours, 55 minutes with 30 minutes for the optional writing.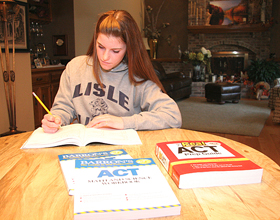 So which test do you want to take? By taking a predictive test PSAT and PLAN in your sophomore year you can somewhat predict your scores for either the ACT or the SAT.

We can work with your son or daughter in a One-on-One approach or a Small Group ACT PREP class. From your past experiences in taking tests, determine what the weak areas are and work on those.
By seeking out teachers or counselors, you can ask for advice
on how to improve in those areas. Take sample tests, evaluate
the results and keep testing and reevaluating.


A review of the weaker area(s) of concern can help with the content of the ACT, such as vocabulary words or brushing up on coordinate and solid geometry, trig, or algebra problems.
Because the science section will measure your reasoning, it is the easiest section of the ACT. It will be important to know how to read scientific data in charts, graphs or reports.
Each of the four multiple-choice ACT test sections (English, Mathematics, Reading, and Science) is scored on a scale of 1-36. You will also receive a composite score, which is the average of your four test scores (1-36). When you receive your score report results, it will include national rankings where you can compare your performance against students across the country. For instance, if you ranked in the 95th perce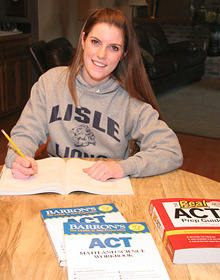 ntile on the Mathematics Test, you did better than 94% of other students, while 5% did test better than you.
You will receive a Writing Test sub score and a Combined English/Writing score. Essays are judged for quality not quantity with a sub score of 0-12 and a combined English/Writing score of 1-36. The Ivy League universities will look at your essay, while other universities may not consider this as important for their admissions requirements. On the ACT web site you can search for writing test requirements by school. As you decide on your choices of possible universities, based on your scores, you should check with each school to understand how they make decisions about your writing score.
So, should you take a ACT online, a classroom course or chose a One-on-One tutor? It can be costly in both time and money. However, practice sessions,
taking sample tests, review of weaker areas of concern and tracking of your scores during this class is helpful.You can also get excellent results with a disciplined approach, a One-on-One tutor and a good ACT guide book. If you chose a One-on-One Private Tutor or a very Small Group ACT PREP Class, they should help you in the ACT content areas, as well as, strategies on how to take the test. You will need to know content, as well as, methods or processes for math problems and reading. Feedback is essential to avoid making the same errors and to know why you may have missed an understanding of a subject area.
Tutors from Napervile Tutoring, an ACT PREP book from the ACT.org and Barron's Prep books is a great way to go! Here are some good choices for ACT preparation books below which can be ordered directly from this site.

See what some parents are saying about Naperville Tutoring ACT PREP tutoring services!
© Naperville Tutoring | ACT-UP™ | ACT PREP | Naperville, IL


The Real ACT (CD) 3rd Edition (Real Act Prep Guide)
The Real ACT Prep Guide with CD is the only book with insider test-taking tips and strategy, practice, and insight from the makers of the ACT. This is the only guide that includes 5 previously administered, full-length ACT tests written by the actual test maker. Also included is ACT content and procedures you'll follow when actually taking the test, along with in-depth review of the optional Writing Test and how it is scored; examples of all the question types; and suggestions on how you might approach the questions. The supplemental CD features a complete electronic copy of Peterson's Cool Colleges 101 and additional online college planning resources from Peterson's.
The only guide that includes 5 previously administered, full-length ACT tests written by the actual test maker (including 2 NEW practice tests)

ACT content and procedures you'll follow when actually taking the test

Valuable information about tuition payment plans

All the question types you can expect to find on the ACT

Suggestions on how you might approach the questions and Peterson's tried-and-true

test-taking strategies and tips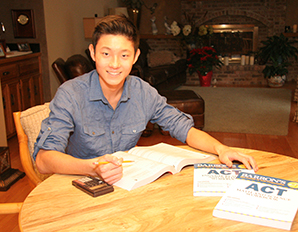 This updated workbook gives college-bound students extensive practice and review in all three verbal sections and all four reading genres of the ACT. An introductory overview explains the formats for the ACT's English Test, Reading Test, and Writing Test. A full-length self-assessment test follows with an answer key and explanations to help students assess their strengths and weaknesses. Additional features include:
ACT FAQs
Timing tips and time savers
Coaching, study tips, and plenty of practice and review
Quick drills and sensible test-taking strategies
A full-length practice test with answers and thorough explanations
Students can use this workbook to review English grammar, punctuation, and style, as well as to sharpen their reading comprehension with practice passages in the Humanities, Natural Science, Prose Fiction, and Social Science. They can also hone their essay-writing skills, guided by the author's instruction in organizing ideas, writing a well-developed draft, and editing the finished essay.


Barron's ACT Math and Science Workbook, 2nd Edition
The revised second edition of this hands-on workbook presents exercises, problems, and quizzes with solutions and answers as it takes college-bound students through all math and science topics covered on the ACT. Separate math chapters cover:
Pre-algebra, elementary algebra, and intermediate algebra
Plane geometry, coordinate geometry, and trigonometry
The science sections emphasize the scientific method and focus on how to read scientific passages. Science topics covered include:
Data representation passages
Research summaries passages
Conflicting viewpoints passages
Additional features include a glossary of science terms and test-taking strategies for success. The workbook concludes with a full-length math and science practice test.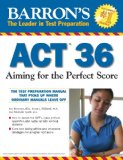 Barron's ACT 36: Aiming for the Perfect Score

An ACT test score of 36 represents test-taking perfection. College-bound students who approach this score are more likely to gain acceptance into the nation's finest colleges. Students who are focusing on getting an exceptionally high or even perfect score on the ACT will want to get their hands on this innovative book. Inside, they'll find:
Advice and strategies for tackling the ACT's most difficult questions and coming up with winning answers
Extra-challenging practice tests in all ACT test areas: English, Math, Reading, Science, and the optional Writing test

Instruction on reading efficiently and retentively
Special tips for boosting your science score
Detailed advice on writing a winning essay
A brand-new manual to help college-bound students succeed on the ACT. The emphasis is on learning by doing, with six full-length practice tests for students to determine their strengths and improve their weak areas.
Similar in length, structure, question types, and degree of difficulty to the actual ACT.
All test questions are answered with detailed analyses explaining why each correct answer is the right one, and why the alternatives are incorrect.
Includes exclusive tips and strategies to help test takers attain their highest score.
Serves as effective test preparation and makes an ideal test prep companion



© 2016 SMS Design, Inc.™ All rights reserved
Naperville Tutoring & SUMMIT ACT PREP are a division & trademark of SMS Design, Inc. Terms of Use